レーザー透過性に優れたポリアミド樹脂
SNシリーズ
What are LEONA™ SN series, next generation halogen & red phosphorus free flame retardant polyamide series?
Laser transmission properties of LEONA™ SN-series resins
材料を透過して接合部位に到達するエネルギー量が多いため、レオナ™SNシリーズを用いたレーザー溶着加工には、
高速加工による生産性の向上が可能
(下記動画参照。※動画では強い光が出ますのでご注意ください。)
低出力レーザーでも加工可能
表面に焦げを発生させない
​
Comparison of welding speeds: LEONA™ SN series (left) vs. general non-halogen flame-retardant polyamide (right)
(Caution: Please note the strong light in this video.)
Strength of laser-welded joints with LEONA™ SN-series
Deep-black appearance of LEONA™ SN-series (in case of specialized laser-transmitting black colorization)
LEONA™ laser-welding case study
バッテリー(蓄電池)を納める筐体にポリアミド(PA)樹脂レオナ™を使用し、レーザー溶着加工を行うことで、筐体の小型化・軽量化が可能です。
Conventional welding methods such as vibration or ultrasonic welding entail significant vibrations that may damage sensitive components inside the case. Also, the use of screws or other fasteners requires that some portion of the case be dedicated to bosses or other fastener housings, increasing its spatial footprint. The use of laser welding eliminates such fasteners while avoiding damage to components inside the case, reducing its size and weight.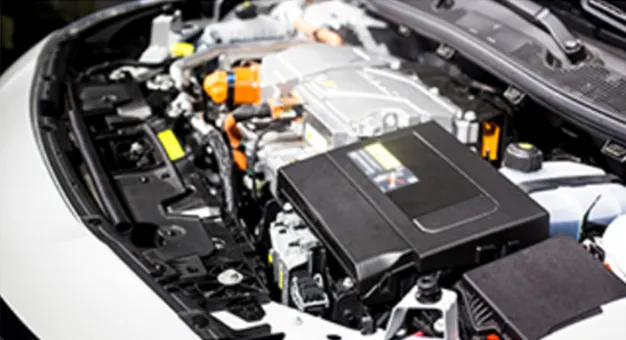 One promising application made possible by the improved laser transmittance of flame-retardant resin grades is laser welding of electronic components, for which conventional welding techniques are difficult to apply. 
The ability to weld components with lower laser power reduces the emergence of unattractive "burned"-looking regions in welded surfaces.

Valves, pumps, electric parking brakes, ECU cases, vehicle-mounted cameras, and more