Energy and Infrastructure
Railway
Materials compliant with the EN45545-2 European railway standard
Summary
Asahi Kasei develops engineering plastics—materials that help to reduce environmental footprints in the mobility sector.
Reducing transportation-related emissions of carbon dioxide and other greenhouse gases is a complex challenge that requires progress on multiple fronts—including developing new technologies, using alternative energy sources, and reducing the sizes of components. Choosing plastics not only offers significant design freedom, but also facilitates component-design miniaturization and ensures a more pleasant experience for passengers.
As compared to other forms of transportation, railways and other public-transit facilities require significantly more time to achieve safe evacuation of passengers in emergency situations. This has the consequence of imposing stringent safety standards on all materials used.
Asahi Kasei is working to develop engineering plastics for railway applications, beginning with plastics compliant with the EN45545-2 European railway standards. 
What is EN45545?
EN45545 is a fire-prevention standard imposing regulations on train cars in European rail networks.
The outbreak of fire can lead to mass tragedy in any setting, but railways and other public transit facilities face the specific additional risk of fires in vehicles passing through tunnels, underground passageways, or other situations in which passengers cannot easily evacuate. In such cases, the essential imperative is to slow the spread of fires as much as possible until passengers can safely exit the vehicle—a goal that imposes strict fire-safety standards on all design materials.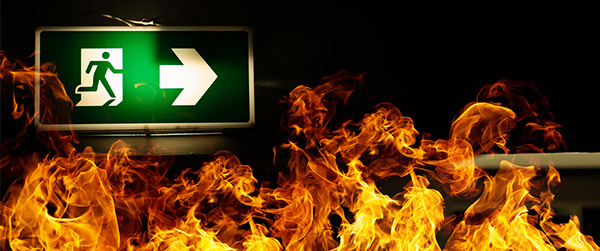 EN45545 considers a range of hazard levels (HL1, HL2, HL3)* and specifies fire-prevention conditions to be maintained by moving rail cars as part of a European legal framework. The first version of the standard, issued in 2013, mandated compliance for railways within Europe; in subsequent years, material requirements corresponding to the standard have gradually begun to take root in Asia as well.
The EN45545 standard is divided into 7 parts, listed below. Requirements for materials and components are specified in the second part, EN45545-2.
*Hazard levels describe different magnitudes of risk posed by the outbreak of fire in a rail car based on the type and design category of the rail car and the feasibility of evacuating passengers in its current state of operation. There are three hazard levels—HL1, HL2, and HL3, with HL3 the most severe—and each hazard level also imposes specific rigorous requirements on design materials.
European railway standards: The seven parts of the EN45545 Standard
EN-45545-1:Overview
EN-45545-2:Requirements for fire behavior of materials and components
EN-45545-3:Fire resistance requirements for fire barriers
EN-45545-4:Fire safety requirements for rolling stock design
EN-45545-5:Fire safety requirements for electrical equipment
EN-45545-6:Fire control and management systems
EN-45545-7:Fire safety requirements for flammable liquid and flammable gas installations
What is EN45545-2?
EN45545-2 is the portion of the EN45545 standard that specifies "Requirements for the combustion behavior of materials and components.

These requirements are determined in accordance with three overarching goals:
To minimize the likelihood of an outbreak of fire
To ensure that, if a fire does break out, flames spread as slowly as possible
To limit emissions of smoke and toxic gases
EN45545-2 defines various sets of requirements—labeled by the letter 'R' followed by a number—for components for various purposes. For example, requirements R22 and R23—which apply to small component like  terminal blocks, transformers, circuit breakers, contactors, inductors, connectors, wiring ducts, coils and other minor components—specify indices for smoke emission, toxic-gas emission, and oxygen levels.
Asahi Kasei's Recommended Solutions
Next Generation Halogen & Red Phosphorus Free PA66 Flame Retardant Series
Asahi Kasei is developing engineering plastics for railway applications, beginning with plastics compliant with the EN45545-2 European railway standards. For more information, please contact us below.
LEONA™ SN series PA66 flame-retardant grades
In recent years, the demand for halogen and red phosphorus-free products have increased as markets become more focused on reducing their environmental impact and improving worker safety.
As a solution, Asahi Kasei developed Leona™ SN, an innovative grade which uses non-halogen and red phosphorus flame retardant. This grade offers exclusive features and benefits: excellent heat resistance, high strength and stiffness under wet condition, and improved processability such as mold deposit and metal corrosion.
In addition to its non-halogen and non-red phosphorus characteristics, LEONA™ SN series has excellent laser printability and laser transparency, resulting in higher laser weldability.
LEONA™ SN series also features excellent low smoke properties due to the presence of aromatic PA. Leona™ SN series has been certified HL3 by the European railroad standard (EN45545-2).
​
​
Click here to download the Leona ™ SN series document.
We would like to talk to you about Asahi Kasei's engineering plastics for railway applications. Please contact us to ask any questions, discuss any concerns, and request samples.
​
Inquiries